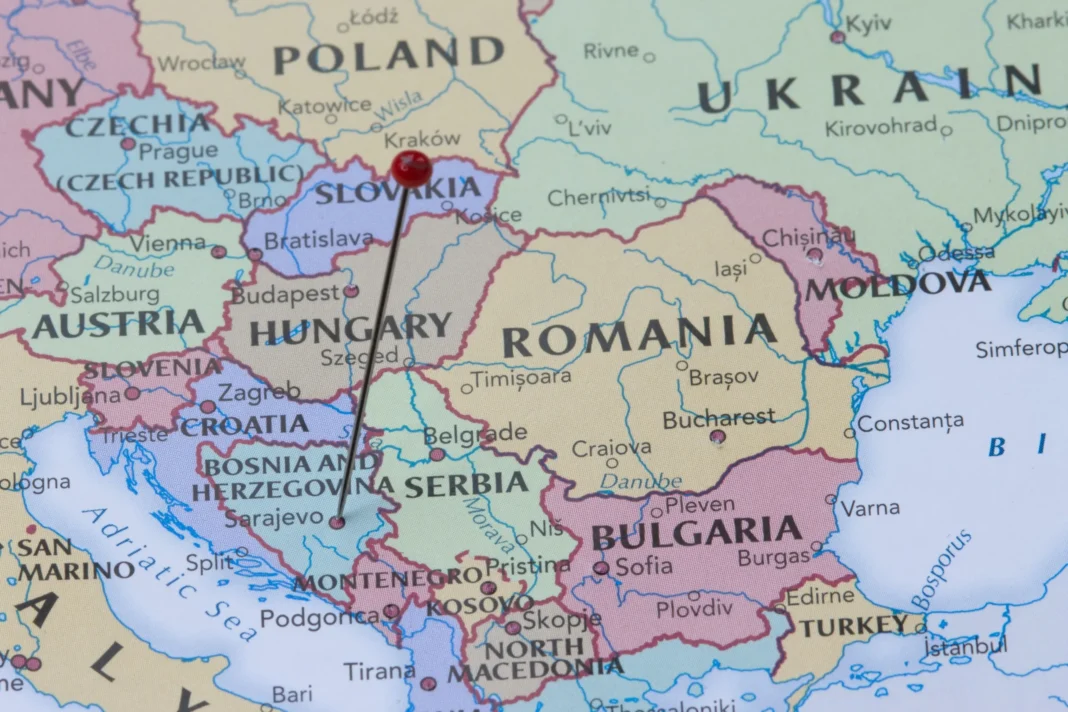 Ermin Sarajlija, Consultant, Sarajevo
September 2023
ABSTRACT: This paper explores how Russia is perceived in Bosnia and Herzegovina, socially and politically, and if that perception has changed since the 2022 outbreak of Russian military aggression in Ukraine. The goal is to determine which domestic and international factors contribute to perceptions of Russia inside Bosnia and Herzegovina, and the positions of Bosnian political actors and society in general vis-à-vis the role of Russia in the country.
Introduction
There is considerable Russian influence in Bosnia and Herzegovina (BiH), and across the Western Balkans, extending from the political, economic, and geostrategic objectives of Moscow in the region. Not unlike its goals in its own neighborhood, Russia seeks to prevent Western Balkan countries, including BiH, from joining the EU and NATO.[1] In BiH, Russia has shown remarkable skill in conducting low-cost operations that have a determinative impact on key issues, to generate serious political friction inside the country and then use that as a grounds for Russian diplomacy, whereby Moscow creates alliances with Bosnian political forces that also oppose Euro-Atlantic integration.
Moscow began cozying up to ethno-nationalist figures in the country in 2006, when BiH first embarked on the path to NATO. Since then, Russia has used its position on the UN Security Council and the Peace Implementation Council (PIC), to provide gradually more aggressive support to both Bosnian Serb and Bosnian Croat nationalist political parties. Russia has backed efforts by Serb politicians in the country's eastern, Serb-dominated entity, the Republika Srpska (RS), to paralyze state institutions, defy the Bosnian Constitution, expel foreign judges from the Court of BiH and the Constitutional Court of BiH, abolish the mandate of the High Representative for BiH (HR), provide impunity to RS leaders for denying the genocide in Srebrenica, and establish the RS as an entity exclusively for Serbs. Beginning in 2018, Russia also threw some weight behind the Croat Democratic Union of BiH (HDZ BiH), which had entered a strategic partnership with Bosnian Serb leader Milorad Dodik, President of the Alliance of Independent Social Democrats (SNSD), to block the functioning of the country's Croat- and Bosniak-dominated entity – the Federation of BiH (FBiH) – and of state institutions. Though, changes in Bosnian Election Law, imposed in 2022 and 2023 by the HR, have improved the standing of the HDZ BiH and have led to ruptures in this partnership.
Russian diplomacy in BiH has long been perceived by people within the country as squarely aligned with the national interests of Bosnian Serbs. And ruling politicians in the RS, with Dodik leading the way, have repeatedly emphasized that Bosnians Serbs will not join the EU if doing so jeopardizes these interests. Dodik, who grounds Serb political objectives in the right to ethno-national self-determination and views the liberal agenda of the EU as an obstacle to this, has thus made himself and his party an obstacle to EU accession for years, and has recently made explicit comments suggesting BiH should instead join BRICS.[2] Ultimately, as Dodik sees it, Serb political interests are best served by their unification across borders, with Serbs from the RS joining Serbs from Serbia; a goal he claims will be realized sooner or later.[3]
Such an outcome requires that the policies of the RS (a sub-national entity) and Serbia (a state) are consistent regarding Euro-Atlantic integration. For Serbia's part, its official position when it comes to NATO is one of neutrality, implying that it does not desire to become a NATO member and will maintain relatively equal ties to NATO countries and Russia alike. Politicians in the RS are largely in agreement that they should follow in Serbia's footsteps.[4] Naturally, Russia enthusiastically supports this approach, and has leaned into the strong relations it has developed with Bosnian Serb politicians to ensure they act as agents of Moscow in this respect. Drawing on historical, cultural, and religious links between Serbs and Russians, Russia has created and maintains political and public narratives that celebrate Russia's continual support for Serb interests during the Yugoslav Wars, on the issue of Kosovo, and with regard to the resolution on Srebrenica in the UN Security Council.[5]
In practice, these narratives encourage and sustain the denial by RS authorities of the 1995 Srebrenica genocide, making it impossible to face the past in BiH. Bosnian Serb authorities also reject the legitimacy of the International Criminal Tribunal for the former Yugoslavia (ICTY) and the International Residual Mechanism, presenting them as anti-Serb courts that lack objectivity, an assertion the Russian Embassy is happy to echo. In July 2021, the pervasiveness of genocide denial among Bosnian Serb politicians led the previous HR, Valentin Inzko, to impose a Decision that amended the Criminal Code of BiH via the Bonn Powers, prohibiting and punishing the denial of genocide and the glorification of war criminals.[6] At the instigation of Dodik, who responded to these amendments by declaring that "the RS should start the process of dissolution" and secede from BiH, the RS Assembly adopted a draft law one week later that blocked Inzko's Decision and ordered RS representatives in the national parliament to suspend their work in protest.[7] On the same day, the Ministry of Foreign Affairs of Russia issued a statement calling the Decision "an open attack on the sovereignty of Bosnia and Herzegovina, its constitutional order and powers of the authorities," and insisting the ban on genocide denial was illegal.[8] Then, during the November 2021 session of the UN Security Council, the Russian representative claimed that "all the achievements of the complex and long process of inter-ethnic reconciliation" in BiH had been threatened by "the irresponsible actions of a number of external forces," and said Inzko's imposition of changes to Bosnian law had "poured fuel on the fire, provoking… disagreement and harmful rhetoric."[9] In Russia's view, it is not genocide denial and the glorification of war criminals that are divisive, but rather any efforts to regulate this speech, and actions by the HR to do so are not only beyond the mandate of the Office but pose a direct threat to the Dayton Agreement, of which Russia is a guarantor.[10]
It is not only Moscow that fosters Pro-Russian sentiment in the RS, though. This attitude is also encouraged by the Serbian Orthodox Church (SOC), which is closely aligned with key figures in the RS government as well as with the Russian Orthodox Church (ROC).[11] In fact, a delegation of the ROC visited the RS for several days in September of this year (2023). Bishop Fotije of Zvornik and Tuzla welcomed the delegation and "underscored the importance of strengthening fraternal ties between the Russian and the Serbian Orthodox Churches… when the Orthodox Christian unity is being tested."[12] This is likely a reference to internal splits that are occurring in the Church in North Macedonia and Ukraine; the latter of which is a direct result of support by the ROC and its non-autocephalous Ukrainian counterpart for Russia's 2022 invasion of Ukraine.[13]
These fractures in Ukrainian Orthodoxy reflect frictions in Ukrainian society that predate the Russian invasion, but which resulted largely from Russian machinations to create and exploit divisions in Ukraine in the service of its own geopolitical interests. And just as in Ukraine, perceptions of Russia in BiH depend largely on which side of this Russian-manufactured divide people find themselves. Thus, while Bosnian Serb ethno-nationalists are firmly in Russia's corner, Bosnian political actors with a civic (i.e., multiethnic) or Bosniak ethnic orientation tend to view Russian activity in the country with skepticism, and consider any action that enables or expedites an undermining of the state or its division along ethnic lines a direct and existential threat to BiH.
To deepen this divide, Russia has consistently exploited several long-running disputes among leading Bosnian political figures; one of which extends from clashing perspectives on how to reform the country's Electoral Law. While civic and Bosniak-dominated political parties seek to orient the Bosnian Constitution and electoral reforms toward the protection of individual rights as required by rulings of the European Court of Human Rights (ECtHR), Croat- and Serb-dominated political parties prefer to widen the ethnic distance among Bosnian citizens through reforms that apply even more of an "ethnic lens" to the organization of state structures and Bosnian society. The most ardent Serb and Croat ethno-nationalist politicians in the country, following the lead of Milorad Dodik, would also like to see BiH become even more decentralized. They advocate for a return to what they refer to as a "genuine Dayton" model in BiH (referring to the Dayton Peace Agreement, or DPA), and are calling for an end to the supervisory mandate of the HR and the removal of international judges from the Constitutional Court of BiH.[14] These demands have been consistently publicly supported by Russian officials.[15]
In the context of Serb nationalism, a "genuine Dayton" model combined with the expulsion of the HR implies a reversal of past interventions by the HR in the constitutional and legal affairs of BiH, reinstituting the previous RS Constitution, which treated the entity as a territory explicitly for Serbs. This remains the vision of Bosnian Serbs, as a precursor to a union with Serbia proper, despite the fact that this kind of ethnic exclusivity was found unconstitutional by Decision U 5/98 of the Constitutional Court of BiH, in 1998.[16] For Bosnian Croat ethno-nationalists in the HDZ BiH, a "genuine Dayton" model is viewed as a means to transforming the FBiH from a federation of cantons identified by geography to a federation of Croat and Bosniak peoples.[17] While the rhetoric of Croat-dominated political parties in BiH has always been pro-EU and pro-NATO, some members of these parties began growing closer to Russia in the years prior to the recent all-out aggression launched in Ukraine, as Moscow showed a willingness to back the chief political interest of ethno-nationalist Croats in BiH – the granting of greater collective ethnic rights to Croats in the FBiH through electoral reform. Some leading Bosnian Croat political actors, including Dragan Čović, the chairman of the Bosnian House of Peoples and President of the HDZ BiH, actively courted Russian support, such as during a February 2020 visit to Moscow when he emphasized the "irreplaceable and fundamental" role of Russia on the world stage and lamented that, in his view, "there is very little Russian influence" in BiH.[18]
Russian aggression against Ukraine and political reverberations in BiH
The Russian invasion of Ukraine did not immediately affect well-established perceptions of Russia among domestic political actors in BiH. The SNSD followed the lead of Serbia, which has shown a reluctance to break its close ties with Russia. And in the Bosnian House of Peoples, some hardline members of the HDZ BiH joined with the SNSD in March 2022 to prevent the adoption of conclusions to harmonize the position of BiH with that of the EU regarding the aggression against Ukraine.[19] The conflict among members of the multi-ethnic, tripartite Bosnian Presidency on this issue was so significant that the Bosnian representative was absent from the 77th session of the UN General Assembly and did not vote on the UN resolution condemning Russian actions in Ukraine.
Serb-dominated parties in BiH have continued to give explicit instructions to their state-level representatives to vote "against the introduction of sanctions on the Russian Federation," and have characterized the Bosnian Serb position on the war in Ukraine as one of neutrality.[20] At the same time, members of the SNSD and HDZ BiH blocked three reform laws in the first half of 2022 that are among those BiH must implement to join the EU; though, these reforms were finally moved through parliament in recent months.[21] This obstructionism serves the interests of Bosnian Serb and Bosnian Croat ethno-nationalists, but also those of Russia, where these efforts have not gone unnoticed. For instance, in early May 2022, Aleksandr Dugin, a leading (if unofficial) Kremlin ideologue, remarked that Dodik's actions in BiH were appreciated in Russia, which found it quite helpful in the midst of crisis that sanctions had not been imposed.[22]
Dodik has also met on several occasions with Putin since the aggression in Ukraine began, including in May 2023, when he claimed during their meeting in Moscow that the West was at fault for the suffering of Ukrainians.[23] By then, Dodik had already directed RS officials to stop cooperating with the US and UK embassies in BiH, after the British government announced it would send uranium-enriched ammunition to the Ukrainian Army.[24] In kind, the Russian Embassy supported Dodik as he unveiled various actions over the summer of 2023 in violation of the DPA, namely of annexes 4 and 10, which regulate the position and authorities of the Constitutional Court and the HR.
For example, in June, RS politicians adopted a law at the entity level declaring that decisions of the Court do not apply in the entity. The HR subsequently abolished this law and issued a Decision amending the Bosnian Criminal Code, with the goal of prosecuting anyone who does not respect the decisions of the Court or the HR. Nevertheless, two laws were promulgated in the entity in July, by the decree of RS President Dodik, declaring that decisions of the Constitutional Court and the HR will not be published in the Official Gazette of the RS. On August 11th, the Prosecutor's Office of BiH responded by filing an indictment against Dodik and the acting director of the Official Gazette of the RS, Miloš Lukić, for refusing to implement the Decision of the HR.[25] Dodik has since asserted that this indictment against him is the work of US Ambassador Michael Murphy, and that it "was written in his office."[26] And the Russian Embassy in BiH has echoed this claim of outside interference; condemning the indictment as well as the Decision of the HR by calling it "a parody of the rule of law and a gross provocation when external forces abuse the [Bosnian] law enforcement system in order to initiate criminal proceedings against the democratically elected and legitimate representatives of the RS for not recognizing the legitimacy of a foreign self-proclaimed person, truly defending the primacy of international law and acting in accordance with the provisions of the Constitution of the RS."[27]
Russian officials have also questioned the legitimacy of the HR in the context of long-running internal disputes regarding the ownership and use of state property in BiH. This issue is part of what lies at the heart of Bosnian Serb challenges to the Constitutional Court of BiH, as Dodik considers the settlement of this matter to be of vital importance to any future "statehood" for the RS, to which he aspires, and a precondition for securing international loans. In April, when the HR used the Bonn Powers to annul an attempt by RS authorities to transfer state property to themselves, the Russian Embassy issued a press release rejecting the Decision and again disputing the legitimacy of the HR.[28]
For these reasons, ambassadors on the PIC Steering Board felt the need to publish a joint statement on 22 September 2023, emphasizing that, "Any attempt to limit the ability of the HR to carry out his mandate according to Annex 10 of the [DPA] on the entire territory of the country is an act of disrespect for the Peace Agreement." They called on Dodik explicitly to "immediately stop his policy of non-recognition of and non-cooperation with the High Representative which is detrimental to the interests of the RS."[29] In lockstep with Dodik, the Russian Ambassador to BiH immediately reacted, issuing a statement to warn PIC ambassadors that they "bear all responsibility for inciting the already complicated internal political situation" in BiH, insisting that the HR is illegitimate and has no right to impose laws because "there is no appropriate UN Security Council resolution approving [his] candidacy," and accusing the PIC of having usurped the right to appoint the HR from the Security Council.[30]
The US, EU, and UK have all condemned these (and other) actions by RS officials as serious breaches of the DPA and the constitutional order of BiH, and US Special Envoy for the Western Balkans Gabriel Escobar has called the RS president "one of the biggest messengers of the Putin regime." Escobar and other top US officials are clear-sighted about the fact that "Russia relies on Dodik to throw Bosnia and Herzegovina off its path towards the EU," and have acknowledged that Dodik may go forward with a referendum on secession of the RS at the end of the year, identifying this as a "red line."[31] One could argue that Dodik has crossed far too many lines already, however, and continues to do so in part by defying outright the international mechanisms intended to curtail his behavior and then framing those mechanisms as not merely illegitimate but as an existential threat to Serbs.
That said, Dodik has lost some allies in his effort to undermine the Bosnian state, as political dynamics within BiH have shifted over the last year, since an October 2022 Decision by the HR – on the very night of national elections – made amendments to the country's Election Law in a way that served the interests of Croat-dominated parties. The HDZ BiH has thus ended its alliance with the SNSD to block Euro-Atlantic integrations for BiH; which is likely the outcome the US was seeking when it controversially supported this intervention by the HR, as the US Embassy swiftly issued a statement declaring that, "The restoration of functionality to the Federation is the first step toward restoring the internal balance BiH requires to address governance issues, deliver prosperity, respond to wider geopolitical challenges, and secure its place in the Euro-Atlantic community of nations."[32] Notably, by connecting the "functionality of the Federation" with "wider geopolitical challenges" and the goal of securing the place of BiH in the Euro-Atlantic community, the US administration implies here that the election reforms imposed by the HR were a matter of national security.
The HR drew again on the extraordinary powers of his office in April 2023 to unblock the appointment of a government in the FBiH, suspending the entity's constitution for a day and further cementing reforms advocated by the HDZ BiH.[33] Satisfied by these concessions, and by the prospect for additional amendments to both the Election Law and Constitution of BiH to further strengthen the position of the country's "constituent peoples," the HDZ BiH has changed its public rhetoric considerably. In April, for instance, when party president Dragan Čović was asked at a press conference to respond to a statement Dodik made about asking the Chairman of the Bosnian Presidency Željka Cvijanović to pause all cooperation with NATO until the end of the conflict in Ukraine, Čović noted that BiH is moving closer to the Alliance "every day," and said this momentum "cannot be stopped regardless of the fact that some would like to stop it and send a different message about the current situation in Europe, Russia's bloody war of aggression against Ukraine, or about the situation in the region."[34]
Yet, the ruling of the ECtHR in the case of Slaven Kovacevic v. BiH, issued in August 2023, has added a new twist to this story, by finding Bosnian elections to be undemocratic due to the privileged position of the country's dominant ("constituent") ethnic groups. The Court ruled that the current Election Law prioritizes ethnicity in political, economic, social, philosophical, and other matters, reinforcing ethnic divisions in the country and undermining the democratic character of elections (and thus the country).[35] Not surprisingly, it took little time for top leaders in EU member state Croatia, who support the efforts of the HDZ BiH to consolidate the power of "constituent peoples" in BiH, to publicly reject the Court's decision.[36]
Public perceptions of Russia in BiH
Given Russia's consistent support for Dodik, and for his party's secessionist aspirations, people from all three main ethnic groups in BiH view Russia as a champion of the Serb nationalist cause. Bosnian Serbs therefore tend to express high levels of support for Russia and its policies, compared to Bosnian Croats and Bosniaks. A survey of citizen attitudes conducted by the International Republican Institute (IRI) in 2022 found for example that 89 percent of Serbs in BiH hold clear pro-Russian attitudes, whereas only 39 percent of Croats and 27 percent of Bosniaks view Russia favorably.[37] Still, overall, IRI has tracked a rising distrust among Bosnians regarding Russian policy in BiH, recording an increase from 26 percent of respondents who believed Russia posed a political threat in 2020, to a rate of 41 percent in 2022. Notably, 60 percent of Bosniak respondents cited Russia as the primary threat to BiH, followed by 48 percent of Croats and a mere 6 percent of Serbs.
This ethnic breakdown is reflected to some degree in public opinion of the war in Ukraine, perceptions of which are significantly influenced by the specific media silo a person inhabits. Bosniak political leaders have regularly and vigorously condemned Russian actions in Ukraine and have frequently compared the aggression with that waged against BiH in the 1990s. But in the RS, it is hard to find alternatives to the distinctly pro-Russian narrative that is promoted by the public SRNA news agency, as well as other "mainstream" outlets.[38] According to Aleksandar Trifunović, editor-in-chief of Buka, an independent media outlet in the entity, Bosnian Serbs have taken sides "much more explicitly" than Bosniaks or Bosnian Croats when it comes to the conflict in Ukraine.[39] He contends that media in the RS has largely followed the lead of Bosnian Serb politicians in supporting Russia, including by referring to the aggression as "a special military operation." Except for Buka, he adds, there is no RS media presenting any debate on this issue.[40]
Trifunović also emphasizes that Dodik would not take the Russian side so openly if he thought it could harm him politically.[41] In fact, Dodik's voters expect and want him to do so. Hence, in the interest of surviving politically and maintaining power, the pragmatic choice for the RS President is to ally himself with Russia, not with ​​Europe. He thus promotes the reductionist narrative of Serb nationalism, which positions Russia as a victim in need of defense. Trifunović believes the most passionate pro-Russian rhetoric in Europe has emerged in this way from Serbs in the RS and Serbia.[42] This reflects the comments of US Envoy Gabriel Escobar that Dodik "praises Putin more than Lukashenko does."[43] Russia counts on this sentiment in the RS and is surely pleased to see it so prevalent.
Seeing as the Russian aggression in Ukraine has been used by some key Bosnian Serb political actors to consolidate their power domestically and influence geopolitics internationally, it is understandable that support for Russia is consistently high in the RS. If anything, Moscow's influence on politicians in the entity has only grown stronger since the Russian invasion began, and these actors can now be relied upon to block any attempts by pro-EU political forces at the state level to implement sanctions against the Russian regime. Moreover, actions taken by RS officials in violation of the DPA have put NATO integration for BiH at a standstill, at least temporarily.
The pro-Russian narrative that is pushed by some media and political actors in the country has also spilled over into public spaces at times. During the 2023 commemoration of Victory over Fascism Day in Banja Luka, which was attended not only by RS leadership but also by the Russian ambassador and members of the controversial Russian "Night Wolves" motorcycle club, speakers justified the invasion of Ukraine, criticized the West, referred to non-Serbs in BiH during the Second World War as fascists, and encouraged a continued fight for RS independence.[44] Nevertheless, most Bosnians persist in expressing a preference for Euro-Atlanticism over an alliance with Russia. In 2022, for instance, 83 percent of Bosnian respondents to the Regional Cooperation Council's "Balkan Barometer" either actively supported EU membership or had no opinion about it either way; meaning that just 11 percent viewed EU membership negatively.[45] And while general enthusiasm for joining the EU has decreased somewhat since 2020, there were still over two-thirds of respondents in 2022 who said BiH should improve trade and investment relations with the EU, compared to just 22 percent who said this of Russia.[46] These results indicate that public opinion is more resistant to nationalist and pro-Russian narratives than one might assume, though it is unreasonable to think this will last if the anti-democratic processes now at work in BiH are not reined in.
Perceptions of Russia within Bosnian society, and within Bosnian political structures, have remained largely unchanged even since the aggression against Ukraine was launched, beyond the policy shift of Bosnian Croat-dominated political parties away from a coalition with leadership in the RS. This has meant a move by the HDZ BiH away from Russia, its resistance to Bosnian membership in NATO, and its goal of fracturing BiH along ethnic lines. However, as recent criticism by the US Embassy highlights, some party leaders continue to view Russia as a legitimate partner in certain contexts, and are obstructing a law to reduce Bosnian dependence on Russian gas; revealing that the party's new policy perspective still needs to fully take root.[47]
The fact remains that even if Bosnian Croats stand firmly on the side of Euro-Atlantic integration, various internal factors, in concert with external factors, will persist in enabling Russia to exert its influence inside BiH for some time to come. Bosnian political actors have different visions of electoral and constitutional reform, of how state institutions should function, of what the right of the people to self-determination implies, and of the appropriate role and authority of signatories to the DPA in the internal affairs of BiH. Bearing this in mind, it seems unlikely that BiH will introduce formal sanctions against Russia for its actions in Ukraine, and it can be assumed that RS leadership will mount further challenges to NATO accession.
Indeed, an upcoming visit by Dodik to Moscow, announced for November of this year, indicates that any actions emanating from the RS will continue to be very closely coordinated with Russia.[48] And, now that Dodik has lost allies inside BiH, one could argue he needs Moscow's backing more than ever. He has made open threats to obstruct the criminal proceedings against him before the Court of BiH, and to dismember the country if his demands regarding the settlement of the state property question are not met. With support from the Russian Embassy in Sarajevo, his anti-democratic machinations have the potential to weave together internal crisis with external interests and generate not only a political earthquake but a serious national security emergency in BiH.
Disclaimer:The research for and production of this report has been conducted within the PROGRESS research framework agreement. Responsibility for the contents and for the opinions expressed, rests solely with the authors and does not constitute, nor should be construed as, an endorsement by the Netherlands Ministries of Foreign Affairs and Defence.
---
[1] See: Zoran Radosavljevic, "Russian envoy makes veiled threats if Bosnia joins NATO," Euractiv, 7 February 2023, https://www.euractiv.com/section/politics/news/russian-envoy-makes-veiled-threats-if-bosnia-joins-nato/; and "Ambasada Rusije: BiH ima slobodu izbora, ali Rusija ima pravo da se brani," N1, 8 February 2023, https://n1info.ba/vijesti/ambasada-rusije-bih-ima-slobodu-izbora-ali-rusija-ima-pravo-da-se-brani/.
[2] See: Claudia Chiappa, "Bosnian Serb leader says Bosnia should join BRICS, not EU," Politico, 29 August 2023, https://www.politico.eu/article/bosnia-herzegovina-serbia-milorad-dodik-brics-european-union/; and "Ministar spoljnih poslova Rusije u poseti BiH," Danas, 14 December 2020, https://www.danas.rs/svet/lavrov-doputovao-u-posetu-bih-prvi-sastanak-za-zvanicnicima-rs-u-istocom-sarajevu/.
[3] See: "Dodik Says He Wants Bosnian Serb Entity To 'Unite' With Serbia," RFE/RL, 24 April 2023, https://www.rferl.org/a/dodik-bosnia-serb-entity-unite-serbia/32376947.html; "Bosnian Serb leader calls for 'peaceful' change of Balkan borders," Reuters, 16 March 2018, https://www.reuters.com/article/us-bosnia-security-serbs/bosnian-serb-leader-calls-for-peaceful-change-of-balkan-borders-idUSKCN1GS2EW; and J. Ðondović and D. Vukajlović, "Milorad Dodik: Vreme je za integraciju Srba!," Alo!, 6 April 2018, https://www.alo.rs/vesti/politika/milorad-dodik-vreme-je-za-integraciju-srba/156947/vest.
[4] See: Danijel Kovacevic, "Bosnia Serbs Vow to Block NATO Accession Plan," Balkan Insight, 15 December 2017, https://balkaninsight.com/2017/12/15/bosnia-serbs-oppose-nato-acession-bid-12-15-2017/; "Dodik: Pressuring Serbs in Bosnia to agree to NATO membership is in vain," N1, 8 March 2019, https://n1info.ba/english/news/a320796-dodik-pressuring-serbs-in-bosnia-to-agree-to-nato-membership-is-in-vain/; President of the Republic Milorad Dodik, "Predsjednik Republike Srpske razgovarao sa predsjednikom Srbije," 14 April 2023, https://www.predsjednikrs.net/sr/preds%d1%98ednik-republike-srpske-razgov-4/; and "Dodik: Bošnjaci i Hrvati žele u NATO, ali RS ne," N1, 13 January 2020, https://n1info.ba/vijesti/a403561-dodik-bosnjaci-i-hrvati-zele-u-nato-ali-rs-ne/.
[5] See: Majda Ruge, "The past and the furious: How Russia's revisionism threatens Bosnia," European Council on Foreign Relations Policy Brief, 13 September 2022.
[6] See: Predrag Zvijerac, "Top International Offical In Bosnia Criminalizes Genocide Denial," RFE/RL, 23 July 2021, https://www.rferl.org/a/russia-bosnia-high-representative/31373163.html; and Nermina Kuloglija, "Bosnia's High Representative Imposes Genocide Denial Ban," Balkan Insight, 23 July 2021, https://balkaninsight.com/
2021/07/23/bosnias-high-representative-imposes-genocide-denial-ban/.
[7] See: "Bosnian Serb Deputies Approve Laws To Block UN Envoy's Genocide Denial Ban," RFE/RL, 30 July 2021, https://www.rferl.org/a/bosnia-un-genocide-denial-ban/31386124.html; "Bosnian Serb lawmakers nix ban on Srebrenica genocide denial," AP News, 30 July 2021, https://apnews.com/article/europe-genocides-race-and-ethnicity-racial-injustice-94ecf18c171acd8e6a58825251a433ed; and "NSRS usvojio Prijedlog zakona kojim se odbacuje Inzkova odluka o zabrani negiranja genocida," Al Jazeera, 30 July 2021, https://balkans.aljazeera.net/
news/balkan/2021/7/30/pocela-sjednica-nsrs-a-zakazana-nakon-inzkove-odluke-o-zabrani-negiranja-genocida. NB: On 15 July 2022, the Constitutional Court of BiH annulled the decision of the RS Assembly not to apply the "Inzko Law." See: "Bosnian Court Quashes Serb Entity's Genocide-Denial Maneuver," RFE/RL, 15 July 2022, https://www.rferl.org/a/bosnian-court-quashes-serb-entity-genocide-denial/31945387.html.
[8] See: "Russia's Foreign Ministry: High Rep's ban on genocide denial in BiH is illegal," N1, 23 July 2021, https://n1info.ba/english/news/russias-foreign-ministry-high-reps-ban-on-genocide-denial-in-bih-is-illegal/; and "MVP Rusije: Inzkova odluka ne može imati pravne posljedice," Radio Slobodna Evropa, 23 July 2021, https://www.slobodnaevropa.org/a/rusija-incko-ka%C5%BEnjavanje-negiranja-genocida-bih/31374241.html.
[9] United Nations Security Council, Provisional record, 8896th meeting (S/PV.8896), 3 November 2021, 9–10.
[10] Ibid.
[11] For example, Dodik has been close to Serbian Orthodox leaders for years. See: "Patrijarh Kiril nagradio Dodika za promociju hrišćanskih vrijednosti," Nezavisne novine, 11 March 2014, https://www.nezavisne.com/novosti/
bih/Patrijarh-Kiril-nagradio-Dodika-za-promociju-hriscanskih-vrijednosti/234941.
[12] Russian Orthodox Church, Moscow Patriarchate, "Delegation of the Russian Orthodox Church visits the fold of the Serbian Orthodox Church," 14 September 2023, http://www.patriarchia.ru/en/db/text/6059826.html.
[13] See: Engjellushe Morina and Andrew Wilson, "Russia, Ukraine, and the Orthodox church: Where religion meets geopolitics and war," European Council on Foreign Relations, 23 June 2022, https://ecfr.eu/article/russia-ukraine-and-the-orthodox-church-where-religion-meets-geopolitics-and-war/.
[14] See: Slavo Kukić, "The Best Legal Framework Cannot Compensate for the Lack of Political Will," European Perspectives 11, no. 2 (2020): 57–82; Mirko Pejanović, "Dayton Peace Accords – A Turning Point in the Historical Sustainability of Bosnia and Herzegovina," European Perspectives 11, no. 2 (2020): 15–38; Danijel Kovacevic, "Insults Mar UN Conference on Bosnia Peace Accord Anniversary," Balkan Insight, 25 November 2020, https://balkaninsight.com/2020/11/25/insults-mar-un-conference-on-bosnia-peace-accord-anniversary/; Jovana Georgievski, "'A delicate moment.' Dodik against the Consitutional Court of Bosnia and Herzegovina," European Western Balkans, 11 March 2020, https://europeanwesternbalkans.com/2020/03/11/a-delicate-moment-dodik-against-the-constitutional-court-of-bosnia-and-herzegovina/; Daria Sito-Sucic, "Bosnian Serb lawmakers vote to suspend rulings of Bosnia's top court," Reuters, 27 January 2023, https://www.reuters.com/world/europe/bosnian-serb-lawmakers-vote-suspend-rulings-bosnias-top-court-2023-06-27/; and "President of Republika Sprska is opposing key mechanim created by the 1995 Dayton Accords," Euronews, 7 July 2023, https://www.euronews.com/2023/07/07/bosnian-serb-leader-backs-law-that-would-abolish-crucial-international-representative. These positions have long been reported in local media; see: "Dodik: Vratiti se Dejtonu," RTS, 21 October 2011, https://www.rts.rs/lat/vesti/region/976616/dodik-vratiti-se-dejtonu.html; "Dodik: Predstavnici RS-a da napuste institucije BiH ako se ne usvoji zakon o Ustavnom sudu BiH," Bh-index, 8 January 2016, https://www.bh-index.com/dodik-predstavnici-rs-a-da-napuste-institucije-bih-ako-se-ne-usvoji-zakon-o-ustvanom-sudu-bih/; "Dodik: Vratiti 83 nadležnosti otete RS, poštovati slovo 'Dejtona'," Fokus, 20 November 2016, https://www.fokus.ba/vijesti/bih/dodik-vratiti-83-nadleznosti-otete-rs-postovati-slovo-dejtona/534447/; and "Čović: Vrijeme da strane sudije odu iz Ustavnog suda BiH," N1, 18 February 2020, https://n1info.ba/vijesti/a410840-covic-vrijeme-da-strane-sudije-odu-iz-ustavnog-suda-bih/.
[15] See: "Russia's Lavrov says Bosnia's peace deal must not be changed," Reuters, 14 December 2020, https://www.reuters.com/article/us-bosnia-russia-peacedeal/russias-lavrov-says-bosnias-peace-deal-must-not-be-changed-idUSKBN28O2SC.
[16] Constitutional Court of Bosnia and Herzegovina, Case U 5/98, Partial Decision III, 1 July 2000, p. 1.
[17] In the FBiH, "[i]n order to avoid division on the ethnic principle between Bosniaks and Croats, the constitution stipulated that the names of cantons should be given according to the geographical, not the ethnic, principle, and the government was established on a parity basis." See: Jasna Bakšić-Muftić, "Razumijevanje Dejtonskog ustava 10 godina kasnije," Proceedings of the Faculty of Law in Split, vol. 42, 2005, p. 70. The original text reads: "Da bi se izbjegla podjela po etničkom principu između Bošnjaka i Hrvata ustavom je određeno da se imena kantona daju po geografskom, a ne etničkom principu, a vlast je ustanovljena na paritetnoj osnovi."
[18] See: "Dragan Čović u Moskvi," Dnevni Avaz, 10 February 2020, https://avaz.ba/vijesti/bih/547993/dragan-covic-u-moskvi-u-bih-nazalost-ima-vrlo-malo-ruskog-utjecaja.
[19] See: European Commission Directorate-General for Neighbourhood Enlargement Negotiations, Bosnia and Herzegovina 2022 Report, SWD(2022) 336 final, 12 October 2022, p. 116.
[20] Assembly of Republika Srpska, "Narodna skupština usvojila Informaciju i Zaključke o međunarodnoj, političkoj i bezbjednosnoj situaciji – mjesto i uloga Republike Srpske," 6 June 2022, https://www.narodnaskupstinars.net/?
q=la/vijesti/narodna-skup%C5%A1tina-usvojila-informaciju-i-zaklju%C4%8Dke-o-me%C4%91unarodnoj-politi%C4%8Dkoj-i-bezbjednosnoj-situaciji-%E2%80%93-mjesto-i-uloga-republike-srpske.
[21] See: "SNSD i HDZ ne žele obavezu sprečavanja sukoba interesa, zakon drugi put pada," Klix.ba portal, 12 May 2022, https://www.klix.ba/vijesti/snsd-i-hdz-ne-zele-obavezu-sprecavanja-sukoba-interesa-zakon-drugi-put-pada/220512042;"Komšić zatražio sankcije za HDZ i SNSD," N1, 23 June 2022, https://n1info.ba/
vijesti/komsic-zatrazio-sankcije-za-hdz-i-snsd/; and "Bosnia ruling coalition leaders agree on reform laws and remaining appointments," N1, 22 August 2023, https://n1info.ba/english/news/bosnia-ruling-coalition-leaders-agree-on-reform-laws-and-remaining-appointments/.
[22] See: Muamer Tanović, "Nakon prijetnje 'Putinovog Raspućina': Rat na Balkanu kao nikad potreban Kremlju," Al Jazeera, 11 May 2022, https://balkans.aljazeera.net/teme/2022/5/11/prijetnja-putinovog-raspucina-kremlju-nikada-vise-nije-bio-potreban-rat-na-balkanu.
[23] President of Russia, "Meeting with President of Republika Srpska Milorad Dodik," 23 May 2023, http://en.kremlin.ru/events/president/news/71188.
[24] See: "Košarac se sastao s Kalabuhovom:Razmijenili mišljenja o 'malignom uticaju zapadnih zemalja'," Slobodna Bosna, 21 June 2023, https://www.slobodna-bosna.ba/vijest/306231/kosarac_se_sastao_s_kalabuhovom_
razmijenili_misljenja_o_malignom_uticaju_zapadnih_zemalja.html.
[25] See: "Bosnian Court Confirms Indictment Against Bosnian Serb Leader Dodik," RFE/RL, 11 September 2023, https://www.rferl.org/a/bosnia-indictment-dodik-republika-srpska/32588014.html.
[26] See: "Dodik accuses US embassy of masterminding indictment against him," N1, 11 August 2023, https://n1info.ba/english/news/dodik-accuses-us-embassy-of-masterminding-indictment-against-him/.
[27] "Ambasada Rusije u BiH: Šmitove takozvane odluke nelegitimne," Večernje novosti, 15 August 2023, https://vecernjenovosti.ba/200541/vijesti/ambasada-rusije-u-bih-smitove-takozvane-odluke-nelegitimne/.
[28] "Ambasada Rusije traži od UO PIC-a da poništi Schmidtovu odluku," Faktor, 13 April 2022, https://www.faktor.ba/vijest/ambasada-rusije-trazi-od-uo-pic-a-da-ponisti-schmidtovu-odluku-spominju-destabilizaciju/159994.
[29] Joint statement by the Ambassadors of the Peace Implementation Council Steering Board, 22 September 2023, https://www.ohr.int/joint-statement-by-the-ambassadors-of-the-peace-implementation-council-steering-board-8/.
[30] See: "Ambasada Rusije: Schmidt nema pravo korisiti 'bonska ovlaštenja'," Fokus, 22 September 2023, https://www.fokus.ba/vijesti/bih/ambasada-rusije-schmidt-nema-pravo-koristiti-bonska-ovlastenja/2730833/.
[31] "Blinken disturbed by Dodik's actions, Escobar says too early for his dismissal," N1, 8 July 2023, https://n1info.ba/english/news/blinken-disturbed-by-dodiks-actions-escobar-says-too-early-for-his-dismissal/.
[32] US Embassy in Bosnia and Herzegovina, "Statement of the United States on the High Representative's Use of Bonn Powers," press release, 2 October 2022, https://ba.usembassy.gov/statement-of-the-united-states-on-the-high-representatives-use-of-bonn-powers/.
[33] See: "Velika Srbija i Velika Hrvatska su na dohvat ruke uz podršku Washingtona, Londona, Brisela i Christiana Schmidta," Slobodna Bosna, 12 June 2023, https://www.slobodna-bosna.ba/vijest/304965/njemachka
_ekspertica_zatresla_zapadni_balkan_velika_srbija_i_velika_hrvatska_su_na_dohvat_ruke_uz_prijateljsku_podrsku_vlada_u_washingtonu_londonu_briselu_i_christiana_schmidta.html; and "Kako se Schmidt preračunao sa promjenom Izbornog zakona?," Deutsche Welle, 19 April 2023, https://www.dw.com/bs/sam-sebi-snio-jaje-kako-se-schmidt-prera%C4%8Dunao-sa-promjenom-izbornog-zakona/a-65368704. NB: These developments have strengthened ethnic representation in the FBiH, leading some members of the SDA, the leading Bosniak ethnic party, to question whether its pro-Western stance should be reconsidered. Prominent figures in the party have rebuked this idea, however, arguing that BiH should remain firmly on the path to Euro-Atlantic integration. Likewise, parties that took seats from the SDA in the October elections, in both the FBiH and at the state level, have pushed back strongly against SDA politicians who have suggested a policy reorientation that would move BiH away from the West.
[34] "Bosnian Croat leader: Bosnia's NATO integration process cannot be stopped," N1, 12 April 2023, https://n1info.ba/english/news/bosnian-croat-leader-bosnias-nato-integration-process-cannot-be-stopped/.
[35] European Court of Human Rights, "Elections undemocratic in Bosnia and Herzegovina since main ethnic groups enjoy a privileged position," press release, 29 August 2023. Available at: https://hudoc.echr.coe.int/eng-press?i=003-7728774-10687753.
[36] See: "Milanović odgovorio Komšiću," Klix, 22 September 2023, https://www.klix.ba/vijesti/regija/milanovic-odgovorio-komsicu-ustav-bih-se-nece-mijenjati-dok-sam-ja-politicki-ziv/230922182.
[37] Available as a PDF at: https://www.iri.org/wp-content/uploads/2022/06/BALKANS-22-RS-01-Full-deck-1.pdf
[38] Denis Čarkadžić, Medijski uticaj stranih sila u BiH (Sarajevo: Friedrich Ebert Stiftung, 2022).
[39] Francesco Martino, "Republika Srpska i ruska invazija na Ukrajinu: lažna neutralnost," Osservatorio Balcani e Caucaso Transeuropa, 19 May 2023, https://www.balcanicaucaso.org/bhs/zone/Bosna-i-Hercegovina/
Republika-Srpska-i-ruska-invazija-na-Ukrajinu-lazna-neutralnost-225043.
[40] Ibid.
[41] Ibid.
[42] Ibid.
[43] "Blinken disturbed by Dodik's actions, Escobar says too early for his dismissal." NB: Incidentally, Lukashenko recently invited Dodik to Belarus. See: "Lukašenko pozvao Dodika u Bjelorusiju," N1, 29 August 2023, https://n1info.ba/vijesti/lukasenko-pozvao-dodika-u-bjelorusiju/.
[44]See: Vladimir Kovačević, "Dan pobjede nad fašizmom u Banjaluci iskorišten za pravdanje ruske invazije na Ukrajinu," Detektor, 9 May 2023, https://detektor.ba/2023/05/09/dan-pobjede-nad-fasizmom-u-banjaluci-iskoristen-za-pravdanje-ruske-invazije-na-ukrajinu/.
[45]Available as a PDF at: https://www.rcc.int/download/docs/Balkan%20Barometer%202022%20-%20PO.pdf/
21e2192c1d34cc6194ecb029d7b5997f.pdf; see page 47.
[46] Ibid., 103.
[47] US Embassy in Bosnia and Herzegovina, "BiH is missing its chance to end dependence on Russian gas, create jobs, and grow its economy," 24 June 2023, https://ba.usembassy.gov/bih-is-missing-its-chance-to-end-dependence-on-russian-gas/.
[48] See: "Sastanak Milorada Dodika i Vladimira Putina: Predsjednik RS-a ide u posjetu Rusiji," Radio Sarajevo, 15 September 2023, https://radiosarajevo.ba/vijesti/bosna-i-hercegovina/sastanak-milorada-dodika-i-vladimira-putina-predsjednik-rs-a-ide-u-posjetu-rusiji/512974.